What should I bring?
---
Documents We will need to see each drivers' full license (showing your current address), plus two of the following; utilities bills, credit card or bank account statement, council tax bill, self assessment tax bill. Which are less than 3 months old and address that matches your license. For UK drivers only we will also need to run a DVLA check on your license, for which you will need your National Insurance number. If you would rather not bring this along you can generate a 'check code' on the DVLA website ( https://www.gov.uk/view-driving-licence) which you will need to share with us. Overseas licence holders, we will need to see your licence and passport. Please note: we cannot hire the vehicle without these applicable documents so please ensure you have these organised to avoid disappointment. Personal items All you need to bring are towels, bedding, clothes and food. Pillows, sleeping bags or duvets appropiate for the time of year are recommended. We recommend soft bags rather then rigid suitcases to maximise the storage area of the California.
---
Where can I go?
---
Where do you dare? We are convientantly located in Southampton along the south coast, within striking distance of the New Forest and only a quick ferry journey from the Isle of Wight. If you are looking for inspiration may we suggest TripSavvy https://www.tripsavvy.com/england-itineraries-4139051
---
What's included?
---
Included within the hire of your VW California campervan is; fully comprehensive insurance for the driver, unlimited mileage, 1 bottle of camping gas, mains hook up lead, cooking equipment, crockery, cutlery and an outdoor table and chairs so you can enjoy the sunshine. All you need to bring are towels, bedding, clothes and food. The van will come with at least a quarter of a tank of diesel, just bring it back with the same amount at the end of your holiday please. Comprehensive Insurance VW Assist - Breakdown and roadside assistance Unlimited mileage Mains hook-up cable Gas bottle - One refill is included free of charge, subsequent refills are to be purchased locally. Outside table and chairs Outside shower Crockery - Plates, Cups, Bowl, Glasses, Mugs etc
Cutlery- Knives Forks Spoons, Sharp Knifes
Tin opener, bottle opener and corkscrew
Whistling Kettle
Bucket (collapsible)
Washing up bowl Washing up liquid, sponge/cloth, rubbish bags Tea Towels Complimentary tea, coffee and milk sachets to get you started
Frying Pan and Saucepans
Cooking utensils Colander Cheese grator Scissors Chopping Board Separate single ring camping stove + spare canister - to allow you to enjoy cooking under the awning
fire blanket As part of your hire package, you will also find a copy of the Brit Stops book which has listings of pubs around the British Isles that allow you to stay overnight in your VW campervan on their premises, all completely safe and free. Its considered a common courtesy to sample some food and drink at the place you chose to spend the night but it isn't mandatory. Having used the Brit Stops service myself, I can personally vouch for this excellent scheme.
---
Will you show me how it works?
---
Of course! There are lots of features to the VW California and we want you to feel completely relaxed and comfortable so a comprehensive handover will be carried out with you. Please allow at least 30 mins to complete the orientation. If you would like to get ahead and do some homework to prepare for this amazing vehicle please do check out the following YouTube links. General introduction...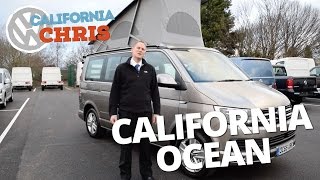 Camping overview...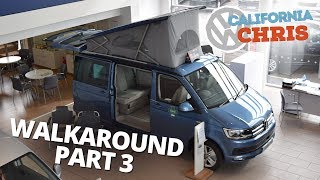 Fridge and Heater...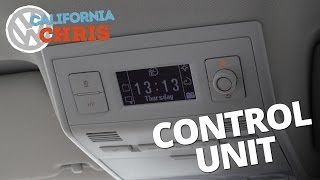 Awning set up...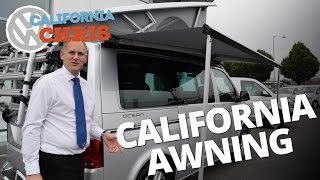 Swivelling the front seats...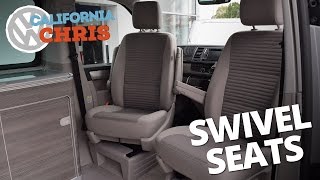 ---
How can I book?
---
You can book your California experience in a number of ways. You can email, text us, book online, use the chat feature or simply call us. I know how frustating it can be when you just want to speak to a person to talk things over, so we will happily discuss your booking requirements over the phone.
---
How much is the security deposit?
---
A security deposit of £1,000 is required, we will normally pre-authorise this on the same card you made the booking with, 2 days before collection. The authorisation will expire 7 days after the Campervan return unless there is damage to the vehicle, its contents or any extra equipment you hire from us.
---
Can we book flexible dates that suit us better, the booking system feels restrictive?
---
We understand. It's this way to ensure we have enough time to ready the van between hires. However, we are a small family business and we will try to accommodate your needs. Please contact us with any requests that are not listed.
---
Can we come and have a look at the VW Campervan for hire in Southampton?
---
Of course. Please contact us so that we can welcome you and show you around. Milk and two sugars?
---
Is it really unlimited mileage?
---
It most certainly is! We want you to love the freedom that hiring the VW California campervan gives you, whilst it's on hire to you, go where you please without worry.
---
What happens if we break down?
---
Our vehicle is brand new and maintained by VW so we sincerely hope this does not happen but in the unlikely event it does you are covered by VW Assist. In the event of a break down they will try to get you on your way again. If they can't then you will be recovered back to our location and we will reimburse you for lost hire days only on a pro-rata basis. We cannot be held responsible for any fees such as campsite bookings, tickets to the theatre etc, etc.

---
What happens if we break something in the van?
---
Unfortunately this will have to be paid for and the cost will be deducted from your security deposit. We will provide photographic evidence of the damage where possible and provide invoice and reciept information to satisfy you that any deductions are fair and reasonable.
---
What happens if we have an accident?
---
In addition to complying with the Road Traffic Act 1988 section 170, please also;
Obtain the names and addresses of any third parties and any witnesses.
Not accept blame or insist the other party is at fault.
Photograph damage to all vehicle(s) and registration number(s).
Call us on 07817018407 with the accident details within 24 hours.
---
Any restrictions on who can hire? Any small print I should know about?
---
Unfortunately yes. Our insurance company does have a few criteria. All drivers must be between the age of 25 and 75, have at least 2 years driving experience have no current traffic convictions or endorsements except minor ones, have no more than 6 penalty points on the driving licence and have not been involved in more than one accident in 3 years. You should read our full Terms and Conditions displayed on the website but the salient points are copied here: A security deposit of £1,000 is required, we will normally pre-authorise this on the same card you made the booking with, 2 days before collection. The authorisation will expire 7 days after the Campervan return unless there is damage to the vehicle, its contents or any extra equipment you hire from us. The hirer is responsible for a standard excess of £1,000. In the event of any damage to the vehicle or third party property, fire or theft, the hirer will be liable for the excess. The hirer will also be fully liable for replacement or repair of windscreen, tyre or alloy wheel damage. Insurance cover provided is Fully Comprehensive.
---
What happens if we run out of gas?
---
A full gas bottle will be provided but in the unlikely event that run out we will meet the cost of one additional refill of gas on production of a valid VAT receipt and reimburse you. Any subsequent refills are at the hirers expense. Refills can usually be purchased at your campsite. Remember that there is also a separate single portable gas burner supplied, should you get caught short whilst making the brekkie!
---
Can we add additional drivers?
---
You certainly can, but only one extra per hire. Provided they meet our insurance criteria there will be an additional charge of £7 per day. Just let us know their details when you book and we will take care of it.
---
Why should I book with you, what makes you different?
---
What makes us different? You mean apart from being the only renter to have a genuine and cool two-tone VW California Ocean to hire within 50 miles? :) As a small family owned and run business, when you hire your VW campervan we will treat your booking as a holiday reservation and not a car rental. As such we charge per night and not per day like our competitors do. This means you effectively get an extra days use when you book with us. Because we know this is YOUR holiday it's important to us to provide you a stress-free and personal service.
---
Can we bring our dog?
---
Probably! We do allow well behaved dogs but only a single labrador sized or two Westie sized, in our pet-friendly campervans but an additional charge is applicable to cover the extra cost for a deep clean. Please see our Campervan Holiday Extras page for more details. Oh and the dog stays downstairs please, no dogs in the pop-top....yes we were surprised too!
---
Can we smoke?
---
Nope! Please do not smoke in or around the vehicle. You WILL lose your deposit if the campervan is returned smelling of smoke.
---
Can we leave our car with you?
---
You must certainly can. We have ample parking at our location and you are welcome to leave a single vehicle with us whilst you are out adventurering. The vehicle will be off the public highway, behind a locked gate and out of sight from the general public. Please note that customers leave their vehicles with us solely at their own risk.
---
What's your Covid Cancellation Policy?
---
You can read about our Covid-19 Cancellation Policy here
---
---
FAQs about hiring a VW campervan